COW - The Conference of Wargamers
In 1980 Dr. Paddy Griffith, who was then a lecturer in War Studies at RMA Sandhurst, organised a conference entitled "New Directions In Wargaming". The conference was held at Moor Park College near Farnham, and lasted over the weekend of 23rd to 25th May 1980. It was at this conference that Wargame Developments was founded. The Moor Park conference was such a success that it was agreed that an annual conference on a similar pattern should be organised, and in June 1981 the first COW took place. Because Moor Park College was unavailable, an alternative venue was sought and thus began WD's long association with Knuston Hall Residential College for Adult Education which lasted until 2021.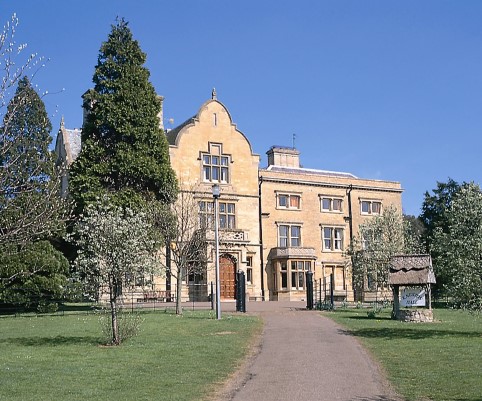 COW is about playing and discussing wargames, and so is dominated by people playing wargames (often in early stages of development or one-off custom games) and providing feedback to their designers. Our definition of "wargames" is broad enough to include hex-and-counter style games, miniatures games (aka toy soldier games), map games, kriegsspiels, RPGs, matrix games and committee games. Playing commercial wargames as-is without any change is rare but not unheard off. We also have a colourful history of "lawn" games. There are usually a few discussion sessions and often a pre-conference battlefield walk. The conference runs from Friday evening to Sunday afternoon and is run on fairly "unconference" lines, so any member can propose a session, even during the conference, and members sign up for a game or session on the sign-up sheets on the main noticeboard at the conference. The photos from previous conferences and game listings below and Nugget Onsides and Offsides should give you a pretty good idea of what we get up to, but of course the best bet is to join and come along!!
Here are links to the Programmes for past COWs, and image galleries are slowly being added. Remember to check The Nugget archives for Onside and Offside reports of the individual sessions. Details of COW 2024 are on our Events page and will be held 12-14 Jul 2024 at Missenden Abbey.
We'll try and add more details on these, and details of earlier COWs over the coming months.